Happy 2018 from The Luminor Sign Co!
2017 was a big year for us here at Luminor. We got the keys to 145 Bethnal Green Rd and set about bringing London's first sign painting shop in 40 years to life! This leap of faith was only made possible by the lovely folks who have come to us since we opened for signs and lettering. We'd like to take a moment to reflect on some of these great projects and look forward to our plans for 2018.
As well as sign painting and gold leaf, we also love working on custom hand-lettering and branding projects. When it came to designing Luminor's own business cards we wanted to go to town on the design and print. Rather than using existing typefaces, the entire design was drawn custom and printed by our good friend Thomas Mayo who did us proud in white and gold foil. If you're looking for quality print in London look no further!
September saw our amigos over at Breddos Tacos opened up their second joint over in Soho. Following our first collaboration at their Clerkenwell restaurant, we were honoured to be asked back to bring some Mexican flavour to their new shop front, windows, menus and a folky style margarita menu.
Founders Nud & Chris started off with a makeshift taco hut in a car park in Hackney back in 2011 and have since done residencies, cook books and now two stylish eateries serving some of the best Mexican food in town. They trusted us to just 'do our thing', and had a blast! Great to be part of the team setting up this awesome venue.
Meantime Brewery
Six craftspeople from around the UK were challenged by Meantime Brewery to create a piece of work in six weeks (the same time it takes to brew a beer) as part of their 'Make Time For It' campaign. We created a gilded panel with mirrored gold, a fade of different gold leaf, pearl in-lays and a decorative border.
Having taught calligraphy and lettering at Universities and art schools in the UK and abroad since 2013,Ged will now be offering day and weekend courses in 'An Introduction to Calligraphy & Brush Lettering' here at the shop. We are honoured to have been contacted buy the sign-making tutors from Arcus Technical College over in the Netherlands who will be joining us in February. We will be hosting the next one day workshop on the 3rd of March, if you are interested in joining us please enquire here.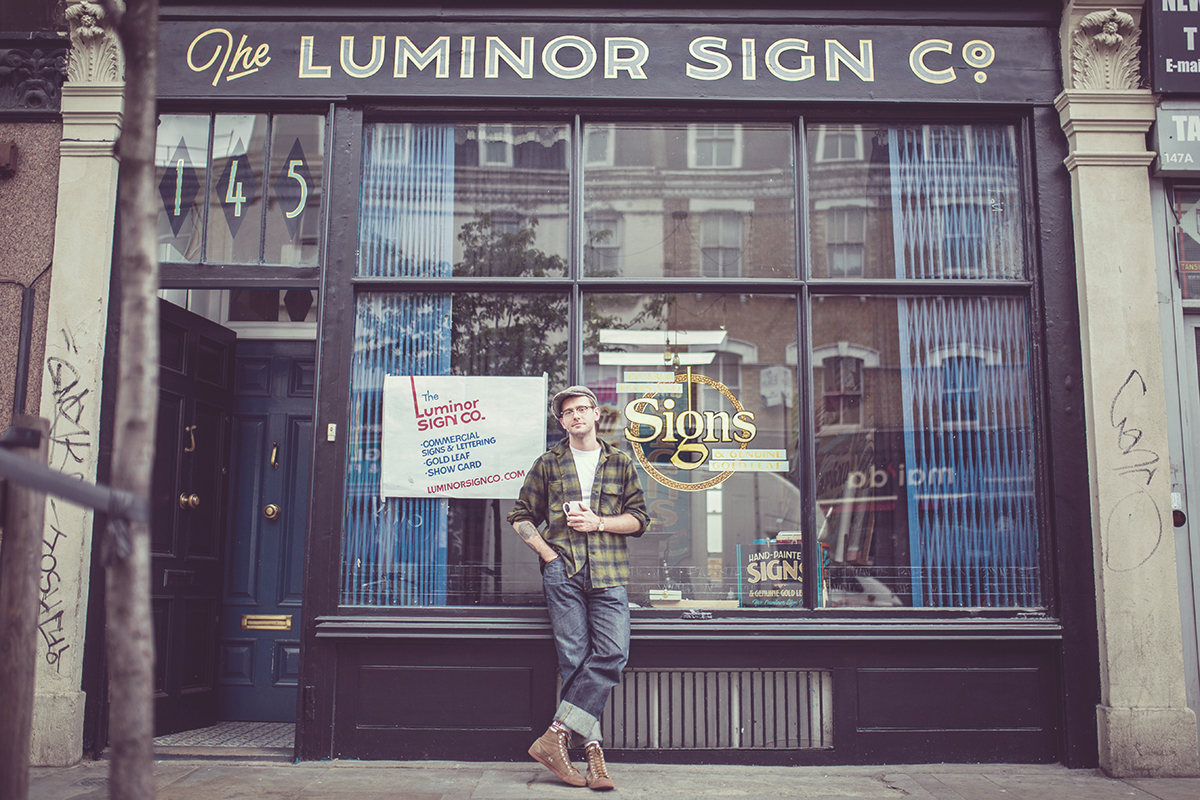 A little about Luminor Sign Co: Lettering artistGed Palmer opened up shop at 145 Bethnal Green Road in March 2017, basing the shop on the original 'Luminor Sign Co' which stood on the corner of Old St & City Rd and closed it's doors in 1938.